Are you hungry? Thirsty? September is the month for you! As we all know, Portland is an epicenter of culinary delights. The world's greatest chefs, brewers, and winemakers have made their way into our fast-growing Rose City to hone their crafts and make our lives a little more scrumptious. Fortunately, this means that there are several delectable Portland festivals coming our way over the next few weeks. Let's all take a tour through the best September events that are sure to make your stomachs happy and thirsts quenched.
*image from Feast Portland's Facebook page
The name says it all, doesn't it? From September 14 to 17, there will be over 40 events held throughout the city. This includes a cheese, wine, beer, and food tasting event at Pioneer Courthouse Square, a nighttime Latin-themed market, a Brunch Village, and various beverage tastings that are a part of what is lovingly known as the Drink Tank. Event tickets range from $35 to $185, or you can buy packages that cover multiple events.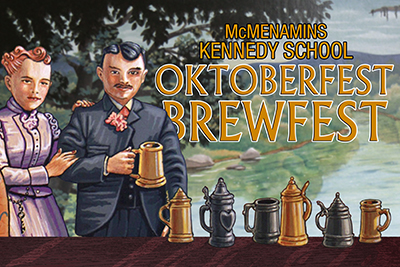 *image from McMenamins Website
Of course, we can't talk about Portland festivals without mentioning McMenamins. The McMenamins are basically Portland royalty with an empire of hotels, venues, restaurants, pubs, and breweries. It's totally appropriate that they've decided to host Oktoberfest at their various locations all over the city. So, from September 16 to October 7, try to check out one of their NINE Oktoberfests!
*image from El Grito's FaceBook
In observance of the Mexican Independence Day, the Moda Center Commons becomes home to El Grito. On September 16, you can enjoy awesome live music, dancing, and traditional Mexican food and beverages. It's one of the Portland festivals that is completely free!
*image from Phillip Foster Farm's Facebook
If you're more of a DIY type person, head to the historic Philip Foster Farm on the 3rd Saturday of September. You'll be able to press cider from your own apples or apples that you purchase from the farm. Or, if the thought of pressing apples doesn't appeal to you, just sip on some pre-made cider and check out all the food, entertainment, and vendors.
*Image from PortlandPolonia.org
Celebrate Polish culture at the Polish Library on September 16 and 17. The 24th Annual Polish Festival is totally free and showcases food, beer, music, and polka contests. You can't pass up Portland festivals that feature polka dancing!
*Image from September Fest's Website
What better way to honor the month of September than to have your pick of nearly 100 beers, ciders, and meads? On September 16, you can do just that at Avery Park. It's only $15 for 4 drink tokens with the option to purchase more. And, all proceeds go to benefit various local charities. Getting tasty drinks while helping the community? Yes, please!
*image from Oaks Park Facebook
There's more than food and beer being served at Oaks Park during the period of September 22 to 24. In addition to the suds and sausage, there will be carnival games, mini golf, go-carts, contests, and roller-skating. You can't miss Portland festivals that'll keep the entire family entertained!
*image from Alpenfest's Facebook
Looking for unique September events? Alpenfest is the only Swiss-Bavarian festival in the western United States. Between September 28 and October 1, try to make the trek to Wallowa County to get your Alpine on. You'll kick yourself if you miss out on all the bratwurst, sauerkraut, polka music, and Swiss yodeling!  
*image from Fresh Hops Website
In honor of the hop harvest, the best Oregon craft beers will be flowing through taps at Oaks Amusement Park on September 29 and 30. The basic entry fee is $20 for 8 drink tickets, and HOTLIPS Pizza and Urban German will be serving up grub. Not many Portland festivals officially celebrate fresh hops, so you can see why this is a must-do event!
Oktoberfest at Widmer
*image from Widmer's website
As one of the largest breweries in the U.S., it's only fitting that Widmer hosts the longest-running Oktoberfest in Portland. On September 30 at Pioneer Courthouse Square, the most popular Widmer beers will be served alongside special brews specifically chosen for the festival. Tickets start at $30, and the event features a live performance from Nathaniel Rateliff & the Night Sweats.
We hope we didn't make you too hungry or thirsty. Wait…maybe we did. At Osprey Apartments, we constantly keep track of things that will positively impact the lives of Portlanders. Talking about Portland festivals and September events is just the tip of the iceberg. Knowing what PDX-ers want and need is actually what drives us.
Because we know Portlanders are active and care about the environment, our LEED-certified building is located next door to the gorgeous South Waterfront Greenway and Willamette River. In addition, we include a 24/7 fitness center as well as bike storage, and an outdoor storage and gear room. For those who enjoy entertaining, we have a community lounge equipped with a full kitchen, TVs, games, free WIFI, couches, and chairs. And, we have two courtyards (Eastside Terrace and Central) that include comfortable lounging areas with BBQs and gas fire pits. Oh, and we can't forget to mention the spacious South Waterfront apartments that are incredibly modern, stylish, and comfortable.
There's not much, if anything, that you really long for when you live at Osprey Apartments. Come see what we mean –
contact us today
!